Sport was a large part of social life at College for me. Medicine had 40 contact hours a week and involvement in the other College activities which occurred during the day was therefore difficult. 
As well as playing sport for College, Ormond students traditionally played football for University Blacks although some played for the Uni Blues. Our coaches had occasional problems with vocabulary. After an especially bad quarter on a muddy Crawford Oval our coach described our play as 'diabetical' and we lacked 'monumentum.' 
But the main event each year was Intercollegiate Football. The team from Queen's were generally easily beaten. Trinity would have good and bad years, but Newman were our sworn enemy.
There were two types of players at Newman. Red haired crazy men who ran in straight lines through anything and anyone in their way, and then the Daniher brothers. Whenever a Daniher left Newman another one seemed to pop up and those boys could play football. Newman would often leave them on the bench and bring them on at the last moment to totally demoralise the opposition. I still remember one Daniher kicking a goal, left foot punt kick from the fence adjacent to the Pavilion, right over or through the old Grandstand. Defeating Newman was always special and doing it in a Grand Final was particularly satisfying.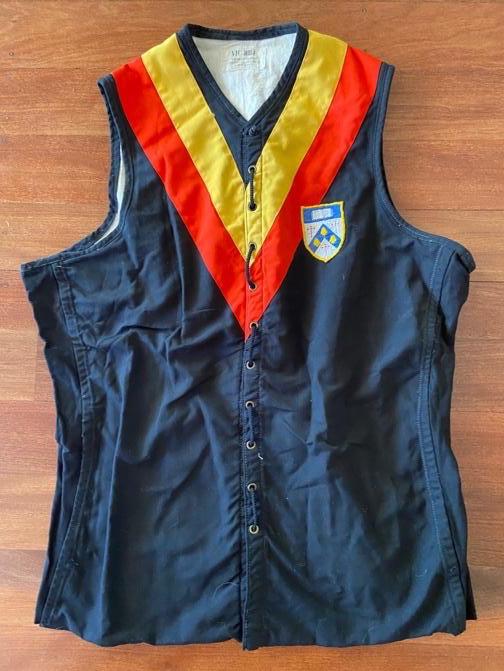 My football jacket 1980-83, with no 11 on the back. We were proud to wear the twin 'V's seen in College photographs since the 1890s.
A leadership lesson
Sport is a fickle beast, and I had my worst moment in sport whilst playing for Ormond in 1983. I had captained the Allstars (seconds) and been in and out of the first XVIII during the season, but I felt I had cemented a spot in the back pocket of the top team and expected to play my second Grand Final. Very few students ever played in two winning Premiership teams. The few I knew of were medical students who had been in College for 5 or 6 years. This was my chance to be a 'legend.'
The knock on the door came the night before the game. The captain and coach bravely came to see me and told me I would not be playing. It must have taken guts to do that, and I tried to put on a brave face, but I was gutted. I wasn't even on the bench: we had a VFL player who was not allowed to play with other teams in case of injury but was nevertheless put on the bench for the Grand Final just in case. I lost my spot.
The next day I stood on my own quietly seething while Newman went on to win comfortably. Our gun VFL player stayed firmly on the bench which was all the more galling. At the time it felt like the worst thing that had ever happened to me, yet in reality it was nothing compared to setbacks later in life. 
I did learn a lesson which I took into leadership roles later. Always take the people who get you to a Grand Final into the Grand Final. Reward those who work for you by trusting they will do the job, and above all never humiliate them.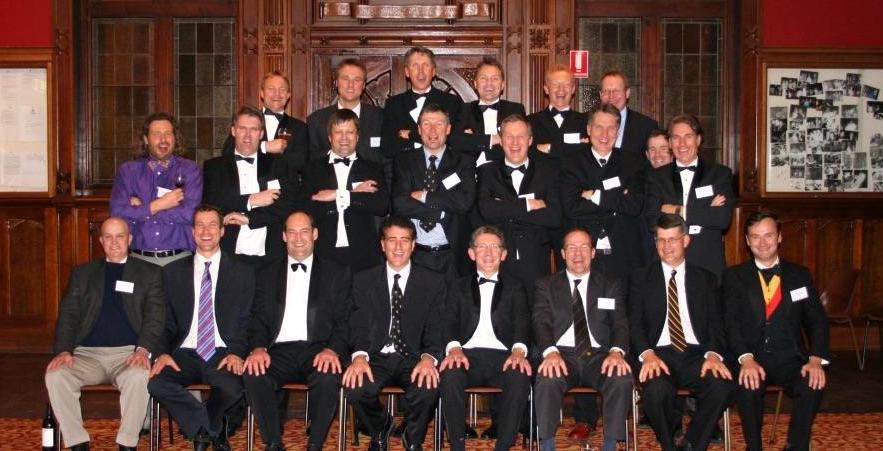 The 1980 Intercollegiate Premiership Team 25 years on. Coincidentally, I'm sitting in the same spot for both this and the team photo from 1980 that hangs in College. Bottom right in the old football jacket.
Triumph
1979 wasn't a great season but our coach Vinny Cattogio, the Afro-haired Carlton rover and local legend, had plans. 1980 was going to be our year.
We had 'made to measure' old-fashioned lace up Vic Hill football jackets made in Adelaide (see picture above). These tight tops were impossible to grab.
We had a mix of highly skilled lads and committed tryers who knew what they had to do and tried to get the ball to our better players. Our style of play was typical for the time and far more attractive than today's zonal play. The aim was to get possession, handball once, kick long and straight to the tall timber at centre half forward. We visited North Melbourne HQ at Arden Street for inspiration after Ron Barassi took them to their first Premiership. A book about that year, The Coach, is a little-known classic which I still have. 
Somehow our direct style of football succeeded. Often on the wing I remember perfecting the left foot short pass, long handballs out of defence, and the shirt front! We took the Premiership in 1980. Everyone played their part which made victory so much sweeter. 
For me 1980 was even better as we also won the cricket premiership but that's a story for another day.
In 2005 we had a 25th anniversary reunion and such was the joy and memory of our win that year nearly everyone turned up including Vinnie and our trainer/runner Rob 'Stevo' Stephenson. The funny thing was I was still growing in 1980, and by 2005 I was now taller than some of my teammates.
Share your Ormond story
Every Ormondian has their own unique experience of College life, and their own story to tell. What Ormond moment stands out in your memory? Whether on the sporting field or the stage, in the JCR, Dining Hall or on Picken Lawn, share your favourite story of life at Ormond College.