Lawyer and writer Nyadol Nyuon (2012) has achieved impressive career success, all while advocating for the unheard and the vulnerable. And she's kept her sense of humour throughout.
It was a chance meeting with a professor in the Melbourne Law School lifts that led to Nyadol Nyuon joining Ormond in 2012. Now a highly accomplished lawyer, writer and advocate, in 2011 Nyadol was an ambitious, hard-working law student with nowhere quiet to study. She was living with eight family members in a two-bedroom house, working three part-time jobs and studying on her sister's bed.
The law professor encouraged her to apply for a scholarship and a place at Ormond College the following year. The juggle of family, work and study didn't go away; but Nyadol did have somewhere quiet  to study. She remained at Ormond for nearly two years.
Since graduating with a Juris Doctor in 2015, Nyadol has built a career that few could emulate. She has worked as a commercial and a public interest lawyer for a prestigious firm, a crime prevention consultant for the Department of Justice and, earlier this year, started a new role as Executive Director of the Sir Zelman Cowen Centre at Victoria University.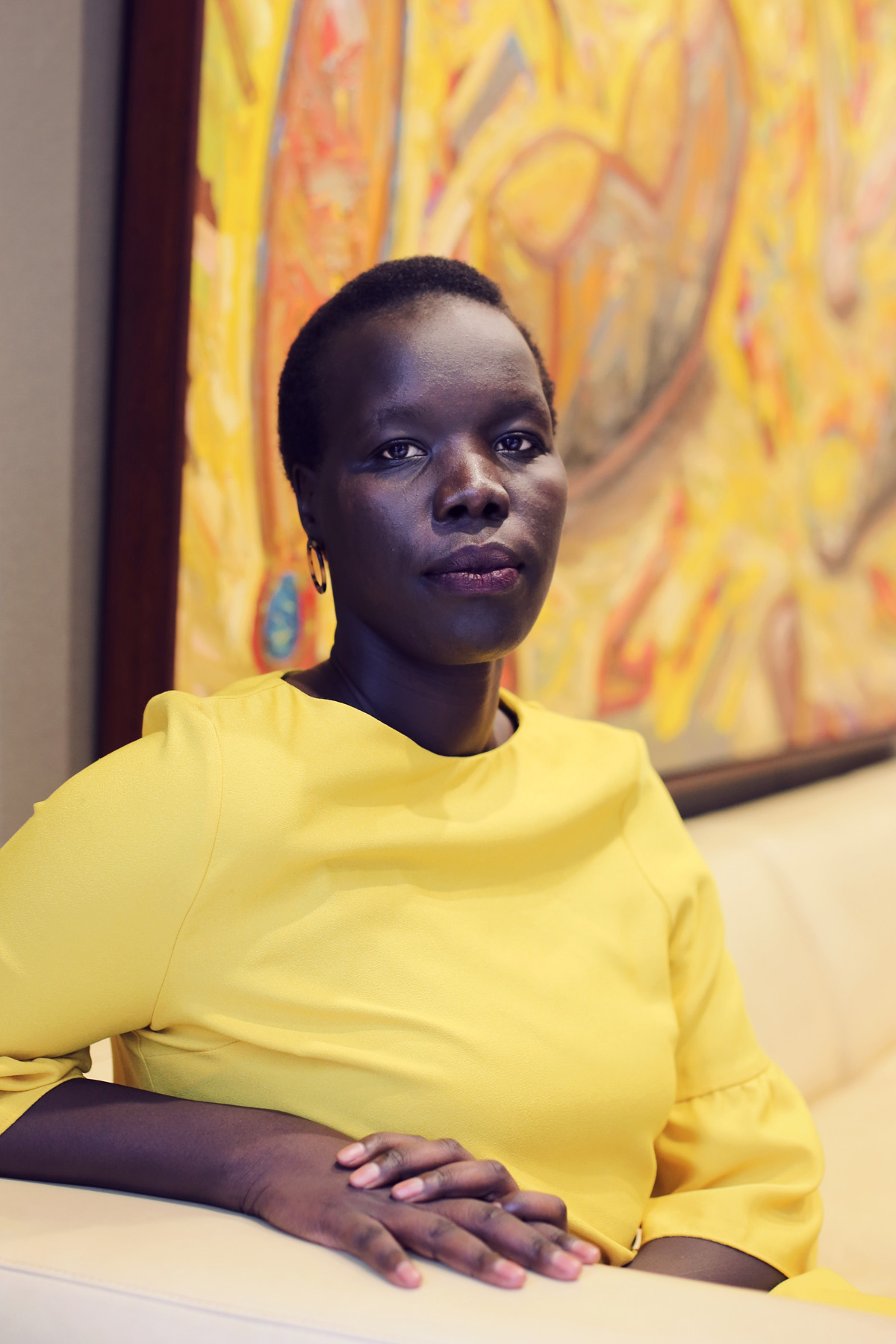 The Centre provides legal education, training and research with a focus on cultural diversity. It offers Nyadol the opportunity to combine her interests in the law and social justice, at an institution close to her heart (she completed her Bachelor of Arts at VU). She is also Chair of the Harmony Alliance, a national coalition advocating for migrant refugee women.
If those roles are impressive, they represent only one side of Nydol's career. She is also a community advocate, media commentator and public speaker; a familiar face on shows like ABC's The Drum and a regular columnist for news outlets like The Age and The Guardian. In June she received an OAM, the latest in a long line of accolades and awards. As she has publicly acknowledged, it all adds up to a demanding schedule. But, she explains, speaking up for the vulnerable and the marginalised is both a response to her lived experience, and in her blood.
Nyadol came to Australia in 2005, fleeing the second Sudanese civil war. She was 18, had spent most of her life in a Kenyan refugee camp, and her family was penniless. That experience inevitably shaped her, but it would be a mistake to assume it has been her sole influence. She is also part of a long line of strong women who have fought for their rights, including her grandmother who was one of the first women in her Nuer Community to take a man to court and win.
"When I returned to South Sudan 20 years after we left and learned more about these women who had such a commitment to fairness in their own society, it was incredibly affirming," she says. "I realised my sense of justice is not only shaped by injustices I have experienced, but also by these people who brought me up as a kid."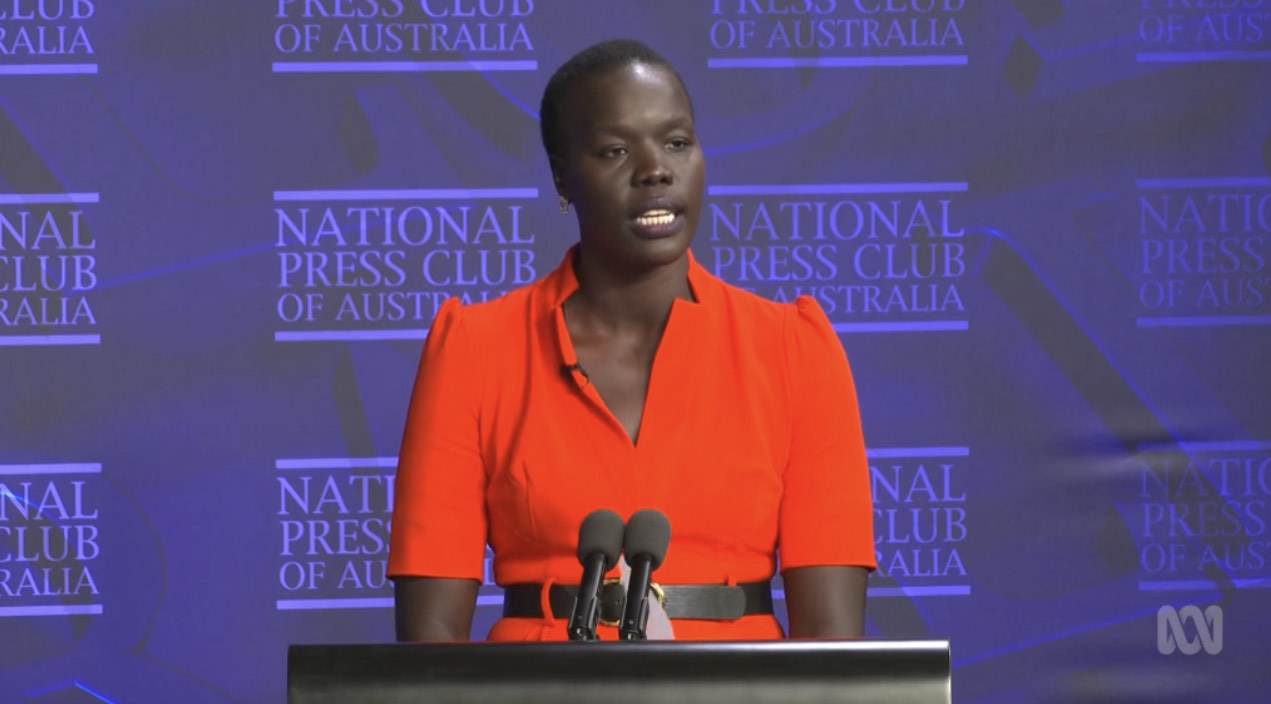 Nyadol Nyuon addresses the National Press Club.
Since climbing to the highest levels of Australian professional life, her advocacy has broadened to being "a citizen having a conversation with the country in which I live. Most of the time that's a conversation about power structures and institutions, so it often speaks to points of vulnerability, however they manifest" she explains.
That might be taking anti-vaxxers to task over claims of discrimination; refusing to forget egregious instances of political racism (fear-mongering about 'African gangs'); or advocating for a more nuanced conversation about women in leadership.
Her commitment to speaking out against injustice in its many forms runs deep and wide; perhaps unsurprising for someone who considers herself, first and foremost, "a hustler and a fighter". But in recent years Nyadol has been balancing that commitment with a gentler approach, actively being kinder to herself, valuing downtime and nurturing her "inner introvert". "I was constantly running and building this life around achieving, and while society sanctioned what I was doing as 'good' and even awarded me for it, I confused the attention for meaning. I was a workaholic and burning myself out," she says. "If you merge your entire identity with your career and then fail – as we inevitably will – you realise you haven't built anything else to fall back on. But if you fail in your job you don't fail as a human."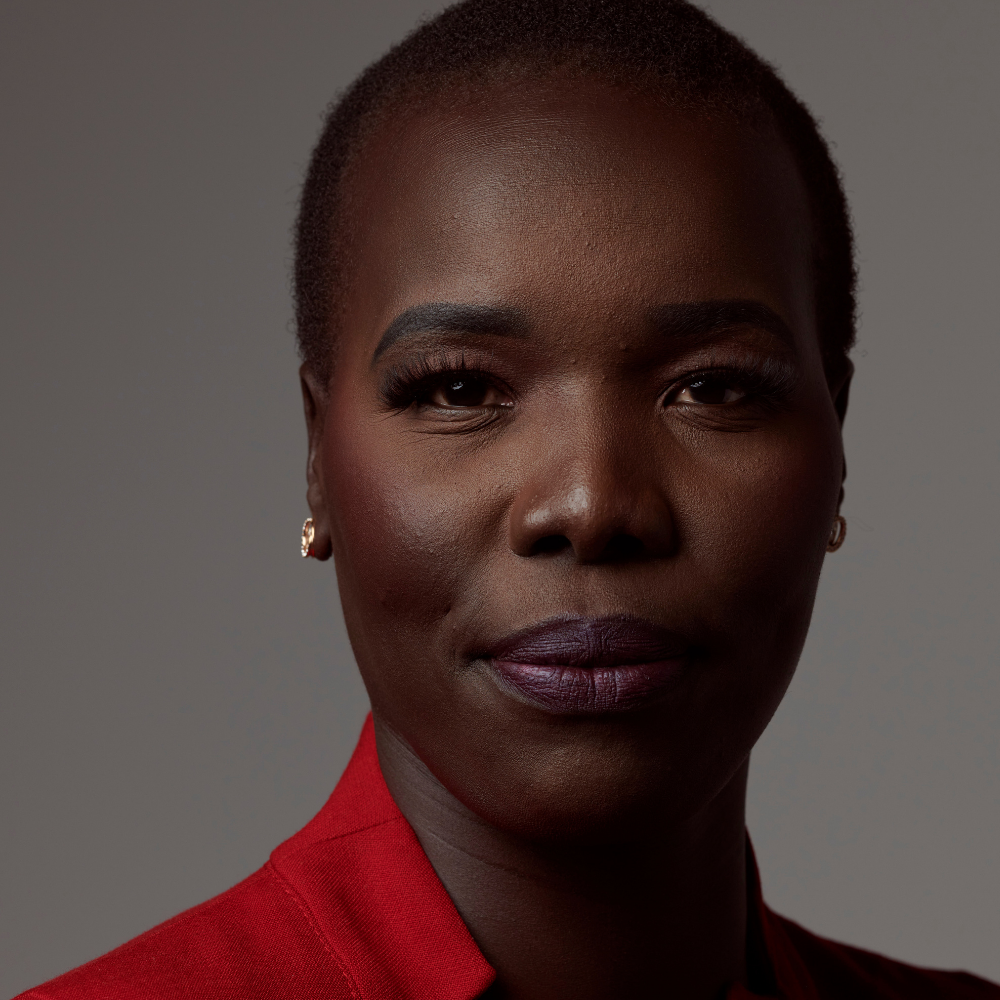 That doesn't mean she has lost her inner fighter, however. She is just finding new ways to express it, with humour becoming one of her most powerful tools.
A quick scroll through Nyadol's Twitter (she posts near-daily) shows that she is not only politically and socially engaged; she's also very funny. And she loves a good meme. "It is part rebellion for me, the first thing trauma takes away is your ability to be silly. Part of my healing is to enjoy my silliness." she says. It is also a conscious rejection of the ways in which she has been conditioned to act; first as a South Sudanese woman (conservative, gentle) and then as a black woman in Australia (not too loud, not too in-your-face). "I did think for a long time that I needed to live up to these very different expectations – we're all influenced by the need to be liked and to connect after all. But I'm learning to allow myself to be a human being," she says. "Humour is the most personal and healing part of my advocacy. And I hope I'm subverting the idea of being 'perfect' for the next generation of women. It's such a diminished way of living a life." For all the cruelty and injustice she has witnessed, Nyadol's humanity remains firmly intact. Not only that, but so does her belief in the essential "goodness" of human beings.
"There's a quote from a John O'Donohue poem – to be excessively gentle with yourself. I try to create that actively now because you can't be kind to others unless you are first kind to yourself." And it is OK to be a bit silly, and to share some memes, along the way. 
Share your Ormond story
Are you an Ormond alumnus? Where has life taken you and how has your College experience shaped your future path?