Lieutenant Colonel Christopher Johnston (1995) has written a debut play like no other.
Christopher Johnston embraced Ormond's cultural scene in the late 90's. He wrote for Ormond Papers; acted in a David Williamson play; and toured abroad with the Choir of Ormond College. "We sang a cappella in the catacombs below Rome, at the new Australian Embassy in Tokyo, in an ancient monastery above the clouds in Sion", he recalls. "I count those concert tours among the most sublime experiences of my life."
During a colourful undergraduate career he also decamped to Indonesia, where he worked in a Sumatran elephant sanctuary and learned to speak Bahasa.
A student of international affairs, he keenly observed the impact of the 1997 Asian economic crisis, East Timorese independence, 9/11 and the 2002 Bali bombings. "The Parkville campus was full of sound and fury, but momentous events were unfolding, including in our near region. I felt it was important to act, to get involved, and to do the best we could."
Christopher joined the Australian Army in 2004. After Duntroon he went on to serve as a cavalry troop commander, linguist, paratrooper, civil affairs and intelligence officer; with deployments to Iraq and Afghanistan. He also set about mastering the major languages of East Asia.
Christopher Johnston (right) on deployment in 2011 with fellow Ormondian Ben Patrick (1996).
And he kept writing – first as a soldier and poet in Iraq, then later as a fellow at Georgetown University. His papers on international security have been widely published in Australia and America.
His debut play First Casualty is set on a remote Australian Army combat outpost in Afghanistan. "The action takes place in 2011, at the apogee of our commitment. Ultimately our campaign became so contentious, dark, and controversial. I've done my best to cast light on the shadows of men at war."
In 2016 Christopher returned to Ormond as a tutor, while studying Chinese at the Defence Force School of Languages in Melbourne. An early draft of his script had just been shortlisted for the Queensland Premier's Drama Award.
Afghanistan might be a world away from the College, but as Christopher explains there are strong ties to Ormond in his play. "The first dramatic reading of the script took place in Ormond's Senior Common Room in 2016; with Kade Greenland (2016), Kareem El-Ansary (2014) and others – Stephen MacIntyre read the part of an Afghan warlord."

The first dramatic reading of First Casualty at Ormond; Christopher Johnston is third from left.
The debut Brisbane production even featured an excerpt from Faure's Requiem, recorded by the Choir of Ormond College in the Dining Hall twenty years ago. "Music runs through this play like a river."
"The play first met an audience at Ormond, and the reception was very encouraging" Christopher reflects. "Now the Queensland Theatre Company is passionately involved, and David Williamson has become a wonderful friend and mentor."
First Casualty ran in Brisbane's Bille Brown theatre in November 2022, directed by Helpmann Award winner Lee Lewis. She described the play as "one of the most significant new plays ever staged in Australia" which she hoped would "challenge audiences nationally and internationally."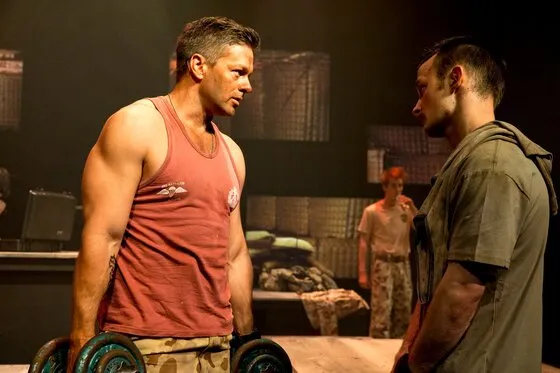 A scene from Queensland Theatre Company's production of First Casualty.
This capped off another colourful year for Christopher, who was also awarded a Conspicuous Service Cross in the 2022 Queen's Birthday Honours List for outstanding achievement in counter-intelligence and intelligence within the Australian Defence Force. Next up is a new role as the Army Attaché designate to Japan.
Share your story
Are you an Ormond alumnus? Tell us where life has taken you and how College may have helped shape its direction.