Curious about her own experiences as a lawyer, radio host, author and more, Lisa Leong (1990) has turned asking questions about work into a career in itself.
If there's one thing Lisa Leong knows about the world of work, it's that nobody has all the answers. As the presenter of ABC Radio National's 'This Working Life', and author of a book inspired by the show, Lisa spends much of her time asking big questions about work. Questions like: why do we work the way we do? And, how we could work differently? 
She is, in part, inspired by her own experience of work, with the former Ormond resident and current Council member describing her path as a "portfolio career". 
"It's only recently I heard the term, and I found it really helpful. It adds up to a whole career, but you have multiple strings to your bow. Human beings are complex, we're so multi-dimensional," she says.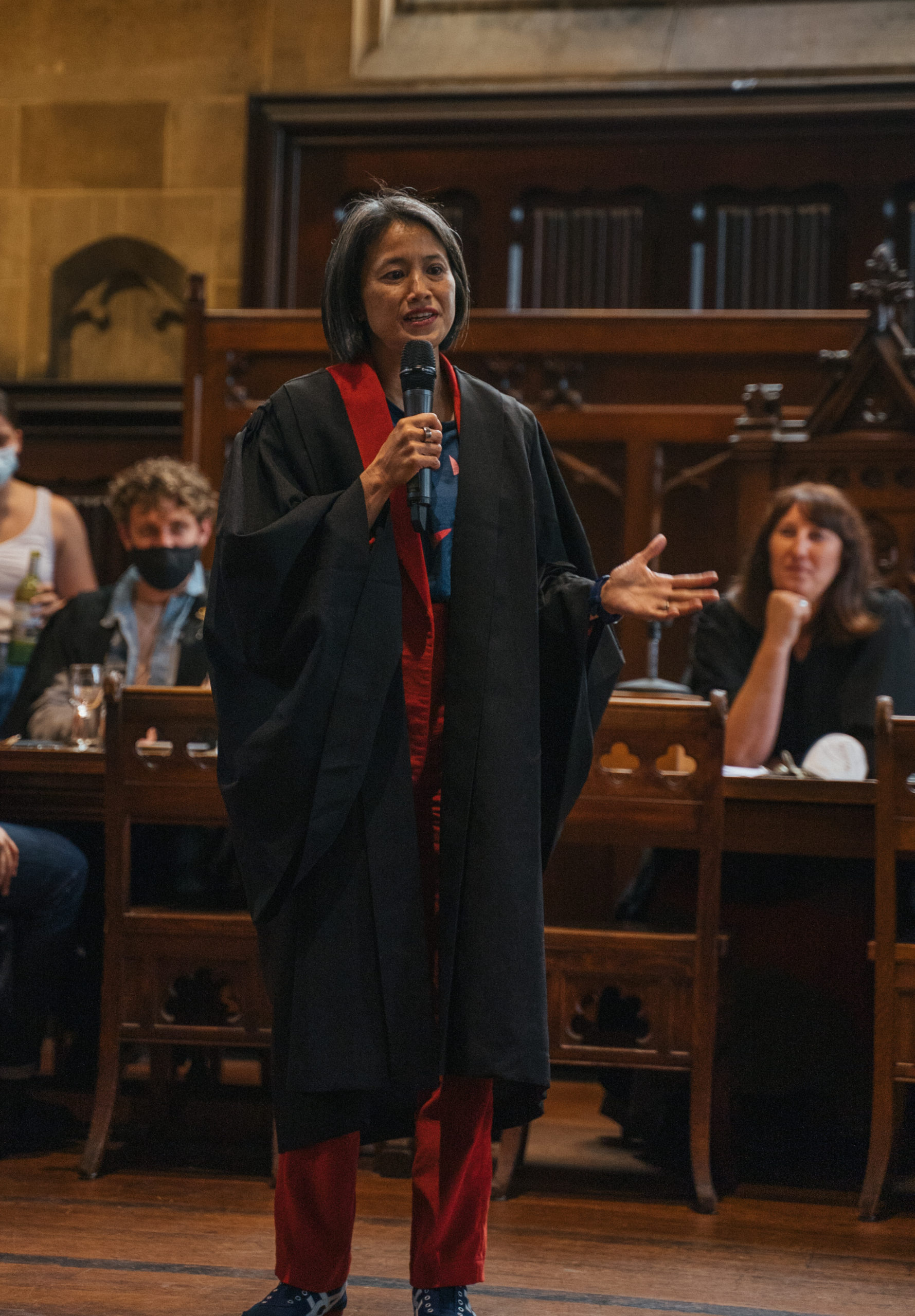 Lisa Leong addresses Ormond students in the Dining Hall in 2022.
While we often allow aspects of ourselves to take a back seat to career progression, Lisa has chosen instead to lean into different interests at different times. Her own 'strings' include lawyer, business development manager, radio host and, most recently, author. 
Of anyone is going to advise us on how to work from home, manage uncertainty fatigue, or even change careers, should it not be her?  Well, says Lisa, not really. The truth, as she sees it, is there is no answer to offer; simple 'rights' or 'wrongs' don't exist when it comes to work. But she has discovered some good principles that help. 
The former science/law student says she approaches every day as a "lab day", with the opportunity to learn a little more about herself and the world around her. It's a mindset that casts failure in a new light; if an experiment doesn't work, the experiment fails, you are not a failure.
"It's a scientist's mindset of testing hypotheses and theories. Every decision you make around your career – even if it is a mistake – is an opportunity to gather a bit more information about yourself and others," she explains.
"And don't take yourself so seriously. That's a great rule, too," she laughs.
Riding career peaks and troughs
Lisa's journey from Ormond College resident to ABC radio host has been an adventure and, like all adventures, it's traversed highs and lows. One of her great strengths has been to learn from the low points and use them to build back better, noticing that her "biggest learnings have come from the biggest troughs".
After university she became a lawyer, completing her articles before specialising in IT and e-commerce at the height of the dotcom boom in London. But when the internet bubble burst in the early 2000s, she found herself questioning whether a legal career was still right for her. She decided to scratch an itch that she'd had for a while – to pursue radio presenting and interviewing. What started as a volunteer gig at her local hospital (British hospitals have dedicated radio stations) would eventually lead to a wholesale move into radio – at least for a few years.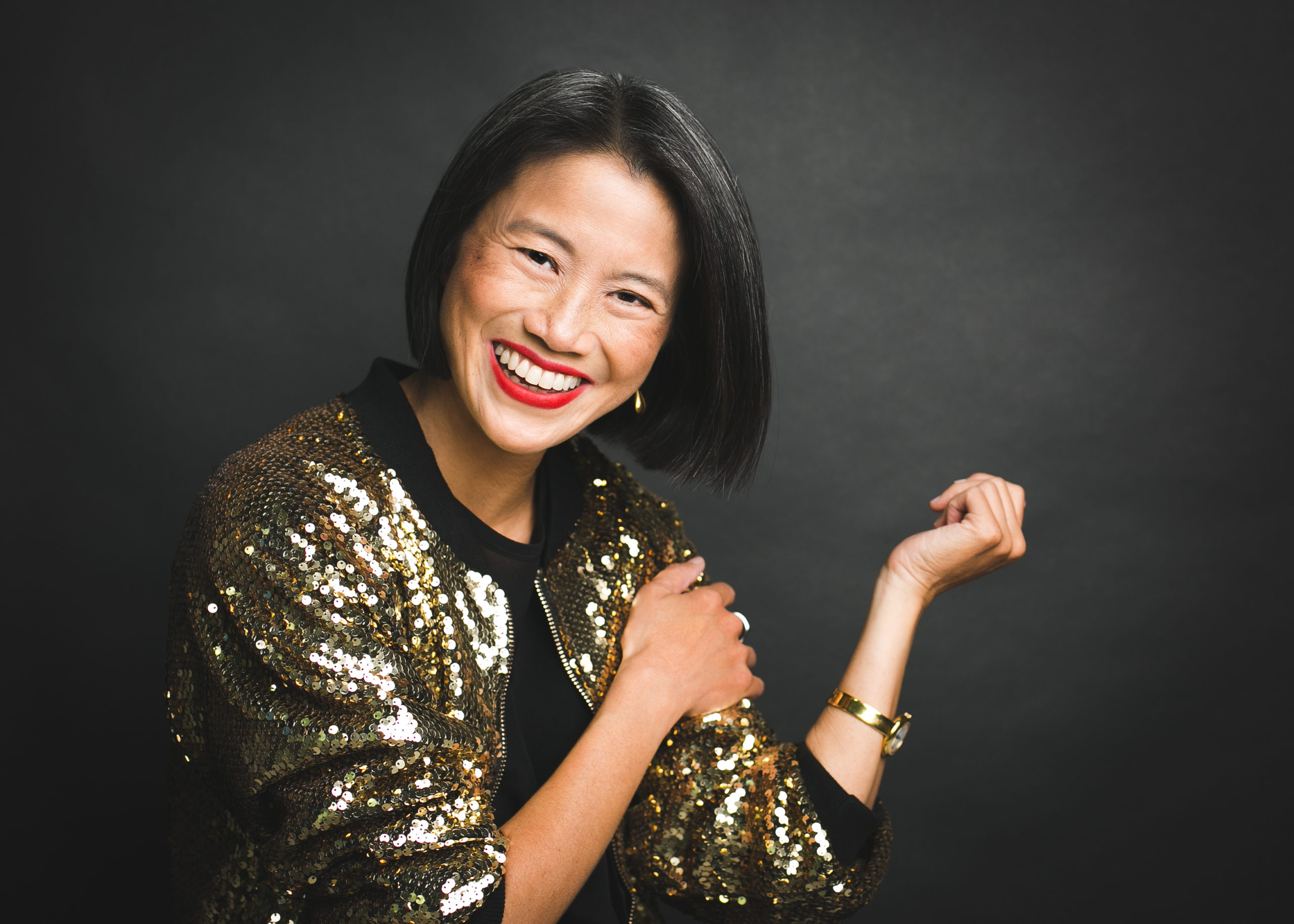 Lisa Leong (photo by Rebecca Taylor Photography)
"At the time it was seen as quite unusual, that big shift into a completely different field. The traditional idea of careers being linear was still very strong," she recalls.
She returned to Australia, studying radio broadcasting before scoring commercial and ABC presenting roles on the Gold Coast and then in South Australia. But the law wasn't quite done with her yet. Lisa returned for nearly seven years to work at a prestigious firm, ultimately heading up business development for Asia.
It was during this time that she experienced what she considers one of her greatest lessons. She fell ill with shingles and experienced secondary nerve damage, going from being a high-flying corporate executive training for an Olympic-distance triathlon, to being bed-ridden and suffering searing pain.
Her recovery was hard-won. She rebuilt her life "in accordance with my values," which included transitioning back into radio and ultimately launching 'This Working Life'.
"What I've found is that curiosity has been the theme of my life. I've applied it to my own career and the world of work, but I'm no expert, I just like to ask questions."
Health has become one of Lisa's top priorities, and she has a strict early-morning routine that includes mindfulness and exercise. She also manages her diary with military-like precision, to ensure she can tick off big work tasks while still allowing for leisure time (she uses a technique known as 'timeboxing').
She has also reflected deeply on the times in her life she has felt most and least satisfied.
"My troughs are always when I'm by myself. I've come to realise I'm much better when I have someone to bounce off," she says.
This may help explain why she considers "connection" to be the most valuable aspect of being an Ormondian.
"I loved it because of the close-knit community, where you could connect with all sorts of different people. It taught me a lot about connection and ideas and fun," she says, noting her Ormond friendships remain strong despite being scattered around the globe.
She now maintains that connection as a Council member and active participant in the Ormond community. "It's connection to each other, to the wider Ormond community, to ideas, to history and even to the future."
Lisa's active role in the Ormond community has become another string to her bow; part of her 'portfolio career'. On reflection, she says it is her innate curiosity that has propelled her throughout all her different roles.
"What I've found is that curiosity has been the theme of my life. I've applied it to my own career and the world of work, but I'm no expert, I just like to ask questions." •
Share your Ormond story
Are you an Ormond alumnus? Where has life taken you and how has your College experience shaped your future path?